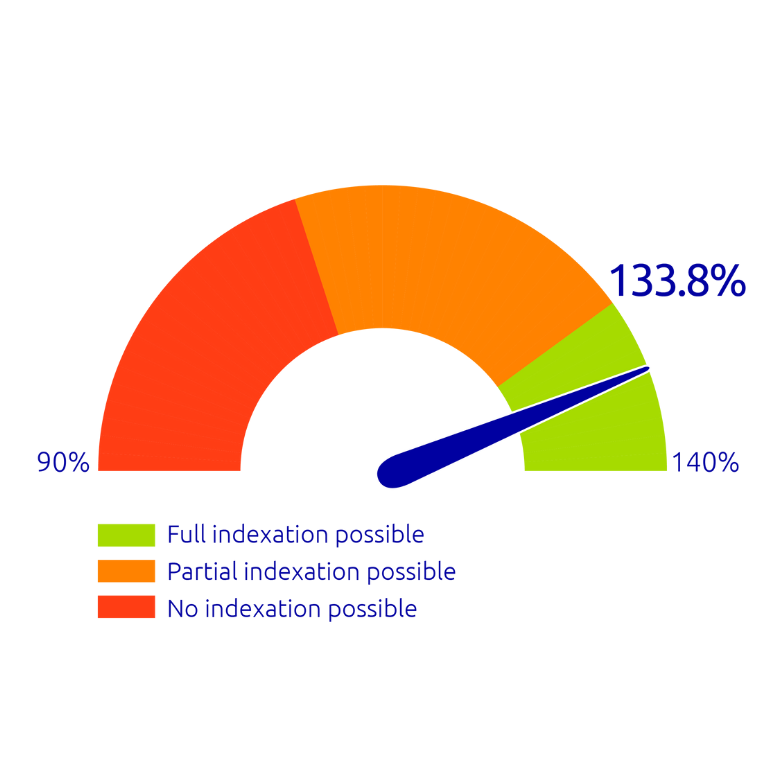 What is the position?
The policy funding ratio (average funding ratio over the past 12 months) as of the end of March 2022 is 133.8%. The current funding ratio as of the end of March 2022 is 143.4%.
Read more
How does this affect your pension?
As of 1 January 2022, we will increase the pensions of pensioners and deferred members of the final pay plan by a full indexation of 1.75%.
Mars Pensioenfonds takes the decision on indexation each year in November, based on the price index and the policy funding ratio in September of that year. In September, the policy funding ratio (125.2%) was above the required equity capital (approx. 123%) and the indexation limit. This allows us to pay out full indexation.
Read more
Funding ratios
The funding ratio of a pension fund specifies the ratio between the assets and the liabilities, and is an indicator of the financial position of a pension fund.
Overview of the funding ratio
Frequently asked questions
At what funding level can full indexation be achieved?

With a policy coverage ratio of around 122%, we have sufficient financial buffers to allow pensions to grow fully in line with wage/price increases (indexation).

 

Will the pension I leave with you be increased? (ARP/ASP)

Are you leaving employment? Then we will increase your accrued ARP annually by a maximum of 3% + the Consumer Price Index (CPI). Depending on the financial position of the fund, this can rise to a maximum of 13%. Whether or not you increase your ASP annually depends on the fund's returns.